Having a Clean Truck Says Everything About the Driver, the Customer and the Company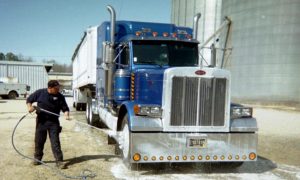 Finding and hiring professional drivers is a top priority for any trucking company or fleet operator. There are few organizations that are not always looking for a good driver with a proven safety record that is willing to care for the equipment and promote the company. A great way to recruit professionals is to maintain a good fleet of vehicles and keeping them clean is a big factor. 
Think about how important it is to a driver to have a truck free of grease, mud, oil, bugs and road film, no window or mirror washing and no putting on gloves to open the hood before you get started. Sparkle Wash Fleet Washing Services can design a maintenance program that works for you and your drivers. Clean vehicles mean safer vehicles because the cleaner they are, the easier they are to inspect and maintain — and to spot on the road. And vehicles last longer when a regularly scheduled Sparkle Wash fleet washing program safely removes dirt, grime, pollutants and ice melting chemicals. Make your drivers proud to drive for you.  
Reduce Your Fleet Maintenance Costs
We come prepared with everything needed to successfully complete your fleet pressure washing job: supervision, safety equipment, training, manpower, insurance, cleaning products, equipment, fuel and environmental controls. Our technicians are prepared to provide you with documentation regarding our detergents, equipment and OHSA approved safety plans.
Trust Sparkle Wash to Comply with Environmental Requirements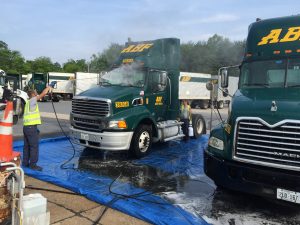 Sparkle Wash Fleet pressure washing service follows best management practices in wastewater removal. We're fully prepared to comply with all state and federal environmental standards and documentation. We follow the proper protocol in everything we do so you don't have to worry.
Our Fleet Services Include:
Trucks
Heavy Equipment
Railroad Cars
Buses
Fuel Islands/Stations
Contact us for a demo wash and maintenance schedule recommendation.