Condominiums & Apartment Complexes
Let Us Help You Attract New Tenants/Owners and Retain Your Current Ones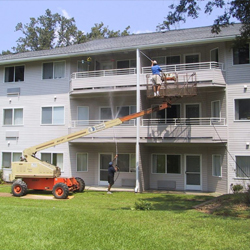 At Sparkle Wash, we understand that there is a lot of competition out there and in order to attract and retain customers, you always need to have the competitive edge. Whether that means maintaining your complexes curb appeal or maintaining/increasing your communities resale value; keeping up the appearance of these properties is important to the health of the development.
Experience the Sparkle Wash Difference
Sparkle Wash Professional Pressure Washing technicians are trained on the most effective and efficient cleaning methods. They will recommend a personalized plan to remove the dirt, grime and mold that can build up on your building, breezeways, storage areas and more.
We Use Environmentally Safe Detergents
All Sparkle Wash cleaning detergents are biodegradable and environmentally safe. These cleaning agents are also safe for pets and landscaping.
Leave the Scheduling to Us.
We offer flexible cleaning solutions and innovated budget options to fit your needs. Sparkle Wash will notify your tenants or homeowners so they can be prepared for the wash day. We will also communicate pressure washing preparation instructions on how to secure their personal property to assure no damage will be incurred.
We Clean and Maintain a Variety of Living Spaces Including:
Market Price Apartment Buildings
Multi-story Apartment Buildings
Single Family and Cluster Home Communities
Our Commercial Pressure Washing Services Include:
Brick, Vinyl, Block, EIFS and Stucco exteriors
Breezeways and Stairwells
Balconies
Common Areas
Parking Garages and Lots
Pools and Pool Areas
Dumpster Areas
Signage
Roofs
We Power Wash Away:
Dirt, Grime, Mold
Bird Droppings
Graffiti
Gum
Oil Stains
Don't turn away potential customers because your property needs a good cleaning. This is a problem that you can easily fix. Request a consultation today.