Cincinnati's Newest Premier Pressure Washing Company
Sparkle Wash Cincinnati is now open and operating in greater Cincinnati and surrounding areas including Mason, Loveland, Milford, Newtown, Blue Ash, Sycamore, Fairfield, and Hamilton counties.
Meet Pat Baker, Owner & President of Sparkle Wash Cincinnati
Hello neighbors and friends – as a longtime resident in and around the greater Cincinnati area, I was excited when a business opportunity became available that would allow me to give back to my community. I am proud to announce the opening of Sparkle Wash Cincinnati Professional Pressure Washing, which serves greater Cincinnati and her surrounding communities.
My family and I have lived in the Cincinnati area for 28 years and currently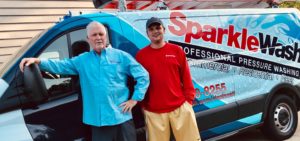 reside in Batavia.  My wife is a registered nurse at Good Samaritan Hospital where she has worked for over 27 years.  We have three great kids that graduated from McNicholas High School in Mt. Washington.  One of the best things about being a small business owner is that I get work with our youngest son Luke. Luke recently attended Pressure Washing Technician training in Cleveland, OH and will be assisting me in the field.
I look forward to meeting you and making Cincinnati sparkle just a little brighter!
Pat Baker | [email protected]